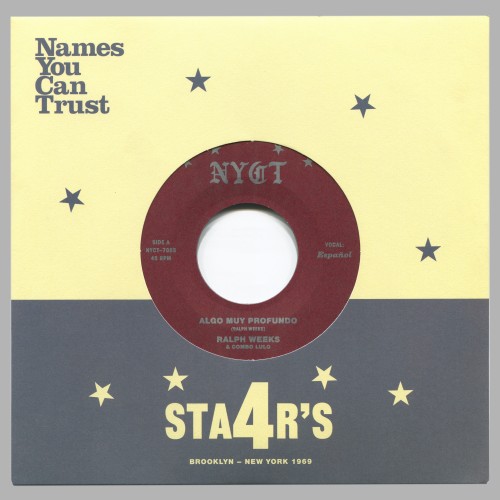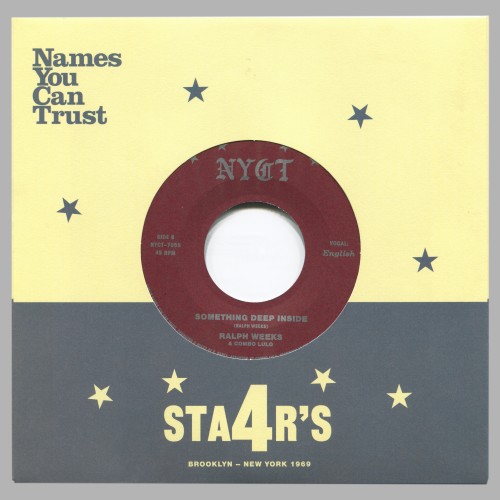 SOLD OUT


Ralph Weeks & Combo Lulo - Algo Muy Profundo
♫ > A1 : Algo Muy Profundo
♫ > B1 : Something Deep Inside
50 years ago, a young Panamanian singer by the name of Ralph Weeks, who a few years prior had cut his teeth in the US music landscape with the group Johnny & The Expressions, self-produced and independently released a record with an absolute monster of a soul ballad called "Something Deep Inside." It was a song that Weeks had come up with on the spot during one of many gigs in the heart of Brooklyn's Prospect Heights, at the time a cultural hub and community for many Panamanians living in the borough. Along with his group, The Telecasters, Weeks often played at a Panamanian-owned club in the neighborhood called 4 Star's (STA4R's) which would independently sponsor the release of the tune on a 7-inch single.
Fast forward to 2019, where a serendipitous meeting between Ralph Weeks and Names You Can Trust turned into a solid formation of musical synchronicity, bonded over a shared belief in musical fusion, a weaving of musical threads that was similarly the foundation of that earlier era in Panama. It's a fusion that has become a constant theme throughout the Names You Can Trust catalog in the last 10 years, connecting the dots from NY, the Caribbean and Latin America. An immediate plan was put into motion: return Weeks to a studio atmosphere that had eluded him in the preceding decades, a vibe and live musical presence that would be reminiscent of his time recording with The Telecasters and The Exciters in Panama.
In the ultimate tribute to Weeks and that foundation, NYCT label mates Combo Lulo unpacked the 50-year old original tune and refashioned it into a timeless rocksteady ballad. It was an opportunity for Weeks to acquaint himself with a new band and a new generation of musical talent. Ultimately, it was an unexpected chance for Weeks to reconnect to the music he wrote one fateful evening in a Brooklyn club. For Combo Lulo, Names You Can Trust, and now the rest of his musical admirers, it's a chance to hear how gracefully Weeks' voice has aged, still silky smooth with those beloved falsetto runs, sweet and rounded like a barrel-aged añejo rum. It's a testament to the timelessness of Weeks' original music, and certainly another reminder of how far and wide even the smallest of musical blips can spread.
Presented as a double-sided bilingual 45 single, both versions of Weeks' classic tune, "Algo Muy Profundo" and "Something Deep Inside," have been formatted in the traditional Jamaican style, skillfully cut live and mixed under the guidance of NYCT and Combo Lulo's talented musicians. It's a tribute to a brilliant record and an unsung architect of Latin American sweet soul, but also a love letter to a very particular NY-Caribbean fusion that theoretically could have happened 50 years ago, depending on the borough you resided in. After all, there was always something deep inside.