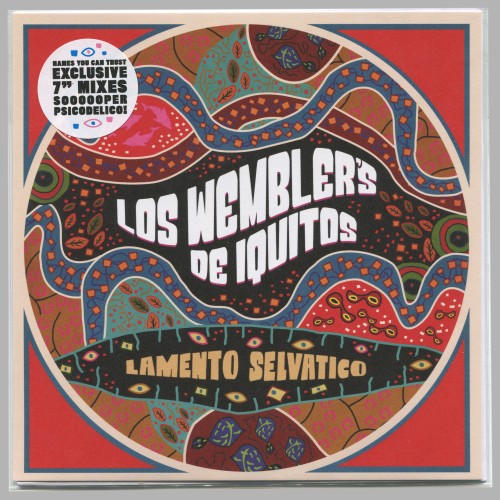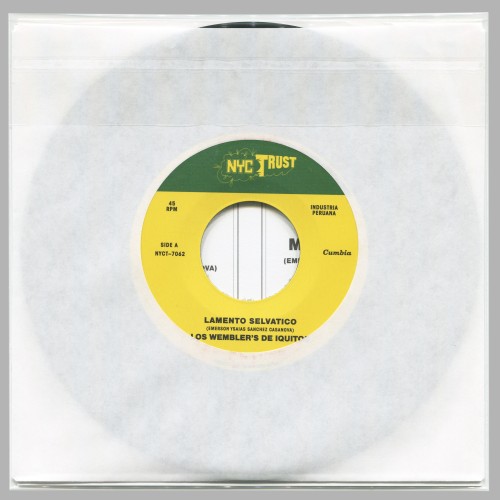 Los Wembler's de Iquitos - Lamento Selvatico
♫ > A1 : Lamento Selvatico
♫ > B1 : Mi Caprichito
Names You Can Trust is proud to present a special collaboration with Barbès Records and the legendary godfathers of cumbia amazónica, Los Wembler's de Iquitos. Featuring two songs mixed expressly for 7-inch directly from the reels of their 2019 album, VISIÓN DEL AYAHUASCA, it's the latest entry in the group's historic canon of a particular brand of bonafide psychedelia, a worthy addition to a catalog of recordings that have made their way around the world to fans, DJs and sound systems since the group's beginnings in the late '60s.
The band's 50 year-old origin story begins when electric instruments started showing up at the port city of Iquitos, Peru. This seminal moment of international trade at the gateway to the Amazon inspired a shoemaker named Solomon Sanchez to start a band with his five sons. Los Wembler's were the first band in the capital of the Peruvian Amazon to play popular local rhythms with electric guitars. Their revolutionary sound, fuzzy lysergic guitar helixes wrapped around melancholic melodies, would go on to have an enormous impact on the whole of South American popular music, echoing throughout the continent and further, into the States and eventually across the world.
The past few years have seen a new wave of interest in the band's music. Los Wembler's, the sons, now fathers and grandfathers themselves, have brought their trademark sound on recent tours to Mexico, Europe and North America, where it has been embraced by a new generation of musicians and listeners.