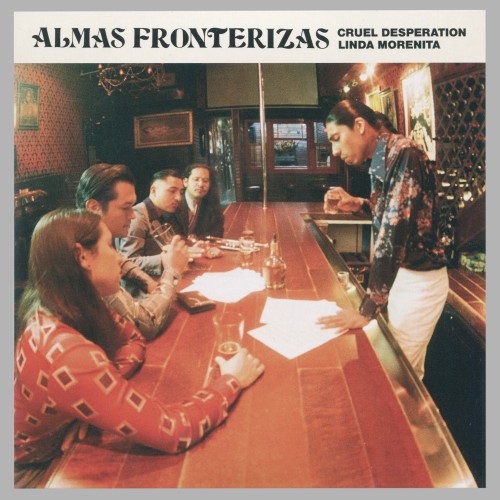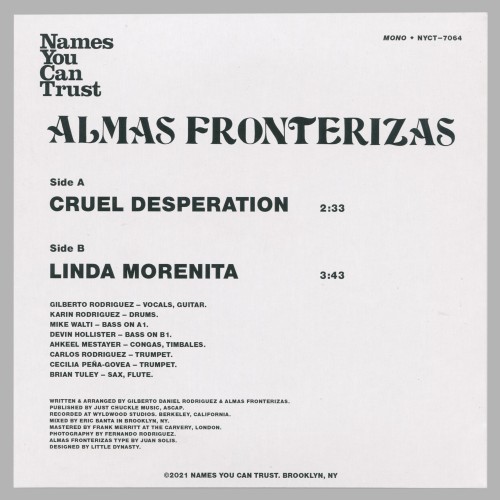 SOLD OUT


Almas Fronterizas - Cruel Desperation
♫ > A1 : Cruel Desperation
♫ > B1 : Linda Morenita
Cousins Gilberto and Karin Rodriguez have been steadily synthesizing a unique type of musical and cultural fusion together as Almas Fronterizas. Blending their lived experiences in Mexico City, Los Angeles and the San Francisco Bay Area with a musical lineage paying homage to their Indigenous roots, they've created a representative musical offering, a modern day psychedelic sonic painting of analog blues, rock, and brown-eyed soul.

The group's first several releases, via their own imprint Discos Pistolas y Saguaros, solidified their space in a wide encompassing and constant changing West Coast music scene, yet stood out with an experimental freedom and independent hustle that found kindred spirits in New York City record label Names You Can Trust.
Now, after a suitable time marinating together with NYCT, a natural continuation of the group's ethos is presented in the form of two new songs on 7-inch vinyl. Featuring a third cousin in Carlos Rodriguez on trumpet, plus percussive powerhouse Ahkeel Mestayer on timbales, conga and maracas, Brian Tuley on flute, Devin Hollister on bass and horn arrangements by La Doña's Cecilia Peña-Govea, the tracks were recorded in Berkeley by Mike Walti and mixed down in Brooklyn for a true coast to coast collaboration. Out in the front, Gilberto's vocals drive drop-top down, wide open and honest in melancholic blue notes, whether he's motoring down the highway over northern soul-with-a-hook A-side, "Cruel Desperation," or cruising on the avenue in the slow-motion B-side ballad burner, "Linda Morenita," it's another showcase of the tremendous range of style and engaging expression that this group can hit.